About
The Allied Academics play a major role in imparting knowledge and keeps one aware of the new trends in different areas of study through Journals and Conferences.
Allied Academies Conferences
Allied Academics has sprung with 20 years of excellence and experience in organizing international meetings. These conferences provide a wide platform for global networking in varied arenas of study by gathering eminent speakers and researches from all the over the world (USA, UK, Europe, Asia-Pacific, Middle East).The students are granted awards like Young Research Forums and best poster presentations for their innovative research works. Apart from these, allied academics will honor people with awards like,
• Academy of Educational Leadership's Award for Innovative and Creative Teaching
• Academy of Educational Leadership's Award for Innovative and Creative Education Fellow Awards.
Many more awards are given like Larry R. Watts Distinguished Service Award, The John Fernandes Strategic Leadership Award and the FELLOW EMERITUS AWARD. We partner, associate and collaborate with the world renowned international associations, collaborations and societies.
Allied Academies Journals
Allied Academic Publication is an amalgamation of several esteemed academic and scientific associations known for promoting scientific temperament.Established in the year 1997,Andrew John Publishing Group is a specialized Medical publisher that operates in collaboration with the association and societies. This publishing house has been built on the base of esteemed academic and research institutions including The College of Audiologists and Speech Language Pathologists of Ontario(CASLPO), The Association for Public Safety Communications Officials of Canada (APCO), The Canadian Vascular Access Association (CVAA), The Canadian Society of Internal Medicine (CSIM), The Canadian Hard of Hearing Association (CHHA), Sonography Canada, Canadian Association of Pathologists (CAP-ACP) and The Canadian Association of Neurophysiologic Monitoring (CANM).

Allied Academics invites all the participants from all over the world to attend "31st Annual World Dentistry Summit", on August 14-16, 2017 in Toronto, Canada which includes prompt keynote presentations, oral talks, poster presentations.
Welcome Message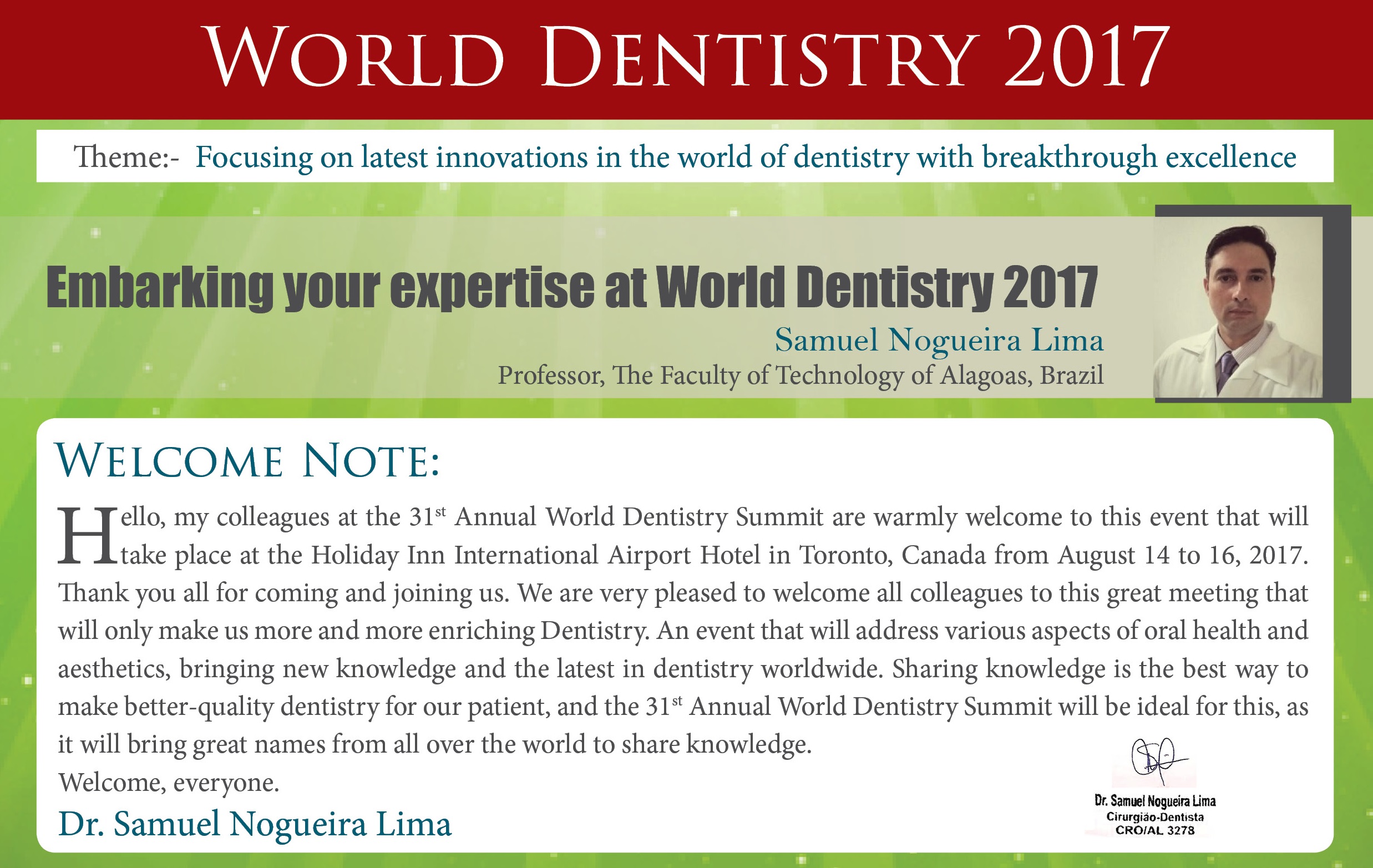 Sessions/Tracks
31st Annual World Dentistry Summit have been designed in an interdisciplinary manner, a multitude of tracks to choose from every segment and provides you with a unique opportunity to meet up with peers from both industries belonging to Dental Health, Oral Health Expertise and Dental Hygiene sectors.


and academia.
The sessions/tracks of 31st Annual World Dentistry Summit is to include following topics and establish a scientific network between them.


World Dental Market Report
The dental industry continues to be one of the strongest targets for development of new 3D printers, materials, and applications. Revenues from additive manufacturing in the dental sector have grown almost 12% since 2015. Conversely, challenges in the 3D printing industry as a whole were weathered in part thanks to a continuing acceptance of digital technologies in the dental world. Dental professionals from every corner of the market now agree that digital dentistry is the way of the future.
Dental care is a $100+ billion, non-cyclical market, with strong underlying fundamentals driving continued robust growth.
Dental care expenditures are expected to reach $122 billion in 2014E, representing an annual average growth rate of 5.8% since 1990, despite the impact of two recessions during this time. Expenditures are expected to expand by 5.7% annually through 2022P, reaching $191 billion, as a result of: favorable demographic trends, Expansion of dental insurance coverage, escalating demand for cosmetic and elective dentistry. The expansion of commercial insurance and Medicaid coverage in the U.S. represents a powerful tailwind for growth in the dental care market. Dental insurance coverage is the largest driver of dental care utilization, as nearly 80% of individuals with dental insurance visit the dentist each year, compared to 54% of those without. The Patient Protection and Affordable Care Act ("ACA") of 2010 is expected to increase the number of individuals with dental benefits by 27 million by 2018P. Increased focus on personal appearance and improvements in technology, materials, and methods are spurring demand for cosmetic and elective dental services. Improved procedures, technology, and greater availability are making cosmetic dentistry more appealing to patients: Cosmetic dentistry equipment has followed the broader trend towards minimally invasive technologies, Availability of more advanced materials resulting in more lifelike dental implants. Over 90% of dentists expect 2014 procedure volume across all surveyed services to remain stable.